Last Updated on December 27, 2022 by SCRAdmin
Determining your sperm's motility and concentration has become more convenient and more straightforward than ever with the YO Home Sperm Test. How does this do-it-yourself testing kit work? Is it really worth your hard-earned dollars? More importantly, are the results 100% reliable?
Let's take a deeper look at this revolutionary at-home semen testing kit and explore how it compares to similar products on the market.
What Is The YO Home Sperm Test?
---
The YO Home Sperm Test (YOSpermTest.com) is the first FDA-approved computer and smartphone-based testing kit that measures motile sperm concentration and determines your sperm quality ranking. Created by Medical Electronic Systems, a Los Angeles-based technology company specializing in rapid automated semen analysis, YO is one of the most innovative fertility testing kits on the market because it works along with a web-based application to provide fast and accurate test results.
Why Use the YO Home Sperm Test?
---
Male infertility issues are more common than you think. Nearly 50% of men with fertility issues have a low sperm count, significantly decreasing their chances of conceiving with their partner. A sperm test is the first step towards detecting male infertility issues.
Sperm testing involves an in-depth analysis of a male's sperm volume and quality. Traditionally, sperm tests occur in a clinical setting, like a doctor's office. Thanks to products like YO Home Sperm Test, men and their partners can avoid the awkwardness of providing samples at public fertility clinics and test themselves right in the privacy of their home in a comfortable setting.
Perhaps you and your significant other are on a journey to building a family, and you're having difficulty conceiving. YO Home Sperm Test provides a comprehensive sperm analysis to determine any potential semen abnormality that can affect your likelihood of getting your partner pregnant.
How Does The Yo Home Sperm Test Work?
---
Using the YO at-home sperm test involves a quick 3-step testing process.
Step #1 – Analyze Motile Sperm Concentration
Sperm motility refers to the sperm's ability to move or swim efficiently. For a natural conception to occur, the sperm must travel through the female reproductive system and attach itself to the egg to fertilize it. Poor sperm motility is one of the leading causes of infertility in men.
The YO Home Sperm Test measures a man's motile sperm concentration to determine whether it's in the optimal, moderate, or low range based on the ranges defined by the WHO (World Health Organization).
Step # 2 – Calculate Your YO Score
The next step of YO's test is its ranking of motile sperm concentration in relation to men who have fathered children. Each user's ranking ranges from ten to ninety.
If your score is thirty, your sperm motility ranks above 30% of men who have fathered children. However, if your score is eighty, your sperm motility ranking is above 80% n of the men who have fathered children. The higher your score is, the more likely you will be able to conceive with your partner.
Step # 3 – Live Sperm Video
Once you have submitted your sample and received your results and score, you'll also have the option of obtaining a recorded video of your sample to have a visual representation that you can share with your doctor or a fertility specialist.
What's In The Box?
---
Each kit contains enough materials to perform two tests. The contents include the following:
Two semen collection cups
One Yo Clip Device/cube that connects to your phone or computer with coverslips for testing
Two liquefying powder vials
Two disposable pipettes to help with processing the samples
A storage bag for the device
Also, the Yo testing device is reusable. You can order refill supplies for additional testing if needed as well.
How To Use The YO At-Home Sperm Test
---
The great thing about the YO Home Sperm Test is that you bring the laboratory right to your home when you purchase it. Here is a breakdown of how this fertility test works.
Once you receive the test kit, you'll need to download the YO Sperm app on your phone. Go to YoSpermTest.com and download the app (don't worry, it's free!). The application is available for Androids, iPhones, Mac, and Windows PC devices.
You'll need to connect the Yo Clip device to a USB power source (like your computer or phone) through WiFi or a cable.
Ejaculate into the collection cup and follow all of the instructions outlined in the app, it's super-easy and right to the point
Don't forget to add the liquefying powder so that it has a runny consistency. Let the powder sit with the sample for ten minutes.
Take the dropper included in the box and drop your sample onto the red dot section of the slide that comes with the kit and place the slide into the YO Sperm test clip device. Wait at least 2 minutes for the results.
Once the wait time is over, you'll get your motile sperm concentration, your YO score, and a video recording of the rate at which your sperm is swimming.
Additional Tips
Don't rush the process. Give yourself around 45 minutes to make sure you have enough time.
If you're using your phone, connect it to a charger so the battery doesn't run low during the testing.
Also, check the connection via wi-fi after plugging in the cube. Verify that 'Yo2' is available on your list of available wi-fi networks. You will connect to it later during the actual testing, and this way you can be sure that no issues arise after you have already provided your sample.
When you transfer the sample to the slide, make certain that there are no bubbles in the tube. If there are bubbles present it will interpret the results as being low.
Do the transfer with the slide on a white background as the directions say. You won't be able to see correctly otherwise.
Is The Yo Home Sperm Test Accurate?
---
Can you trust the results produced by this testing kit? Compared to traditional clinical testing, the YO Home Sperm test boasts a 97% accuracy rate.
YO Sperm is FDA approved, which means the product has undergone rigorous testing to ensure its quality, reliability, and safety.
An in-depth study was conducted at the American Center for Reproductive Medicine Cleveland Clinic using the YO sperm test. During this study, twenty-four men provided approximately one hundred and forty-four semen samples. The Center conducted testing with the Yo Home Sperm Test and the laboratory semen analyzer. The results were 97% accurate.
Is This Home Sperm Test Best For You?
---
You might be wondering if the YO Sperm home testing kit is the right product for you. Perhaps the most desirable aspect of this product is that you can get a good idea of the quality of your sperm within twenty minutes – without ever having to make an appointment with a doctor or step foot into a clinic.
You can use Yo Sperm as part of an affordable proactive approach to conceiving by tracking your progress. Once you have the YO device, you can purchase additional testing materials to regularly test your semen motile sperm concentration as you make the necessary lifestyle changes to boost your fertility chances.
While the YO Sperm Home testing kit can be beneficial, sperm quality, motility and concentration are just a few of the factors that can affect a man's ability to father a child. Yo Sperm cannot analyze male hormones, which is a significant factor contributing to male infertility.
If you're having trouble conceiving after a year, it's best to consult a fertility doctor for further testing.
The Bottom Line
---
The YO Home Sperm Test Kit is one of the most innovative fertility products on the market. It allows you to use your smartphone to analyze your semen sample within minutes for accurate results.
There is no need to mail anything in and wait weeks to see the results. You'll also get an actual video recording using your phone's camera to display your sperm's motility capabilities as extra proof that it's reliable.
You can use this one of a kind of kit to understand how certain habits and lifestyle choices affect the quality of your sperm and your ability to conceive. Your overall health is essential to the fertility puzzle that sometimes gets overlooked. With the YO Home Sperm Test, you can take a significant step forward on the road toward successful conception.
That said, this test not a replacement for a fertility specialist, nor is it meant to be. However, if you're trying to figure out which partner might be having fertility issues, this test will tell you if it's you (twice to be certain). If it's low both times, then it's time to see a doctor for sure.
For the reasons outlined above, we highly recommend the YO Home Sperm Test. The kit can be purchased directly from the YO Sperm Test website.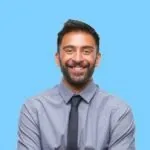 Jacob Rastani is the editor in chief of The Sperm Count Report, and is in charge of reviewing all editorial content for the website, social media, and video platforms. He has over 12 years experience as a senior editor national news websites, where he oversaw production of content relating to health and fitness, medical news, medicine, and fertility and reproductive health.