Last Updated on December 27, 2022 by SCRAdmin
Check Your Sperm Count At Home
---
If you're a man who's having achieving a pregnancy with your partner, you might be considering using an at-home sperm test kit. These test kits are more affordable and convenient than visiting a fertility specialist.
Although comprehensive male fertility testing requires a lab analysis of a semen sample and a doctor's evaluation, home sperm tests can still be useful for those men who are unable to visit a fertility specialist, who are uncomfortable giving a semen sample in an office setting, or who avoid it for religious or cultural reasons.
Additionally, since most men don't get tested for infertility until after 12 months of unsuccessful pregnancy, an at-home male fertility test could help to detect potential problems earlier.
How Do Male Fertility Test Kits Work?
---
The FDA approved the sale of home sperm test kits in 2012. Since then, a number of these kits are available for purchase.
Each product's method of testing is different, and each provides different types of information. Some kits only detect whether or not sperm are present. Others determine sperm concentration, which is the number of sperm in a millimeter of semen.
However, these results report only a miniscule amount of information compared to a comprehensive semen analysis you would receive from a doctor.
Testing kits that are analyzed using a smartphone are much more sophisticated. These kits use your phone's camera and light to capture a close-up video of your sperm using a sample of semen. In order to evaluate sperm motility and concentration, most kits require that the phone be attached to a separate device. This is similar to how testing in a lab is done.
For instance, the Yo sperm test is equipped with a device that attaches directly to a smartphone which functions as a microscope. After using a dropper to place a sample of semen onto the slide, the Yo app calculates the motile sperm concentration.
Home Sperm Test Vs. Lab Testing
---
Home fertility testing kits for men are significantly different from tests done in a lab, as laboratory testing allows for a more detailed analysis.
An andrology laboratory uses a microscope and computer to evaluate the semen. Some of the parameters that are measured in a laboratory analysis include:
Who Should Use Home Testing?
---
Home testing may be a good choice is if a man has specific risk factors for infertility. An at-home test can be a quick and convenient way to confirm that he's still fertile.
Home test kits may also be useful for men who have had a vasectomy. Doctors recommend that before having unprotected sex, patients verify their sterility within a few months after vasectomy surgery. The majority of men neglect to do this, but they might be more willing to test at home.  However, these tests have not yet been validated for detecting sterility in post-vasectomy patients.
Keep in mind that home testing does not replace professional fertility analysis.
If a home test indicates a low sperm count, you should see a fertility specialist. However, male factor infertility is still a possibility, even if the home test results are normal. A fertility assessment would be necessary to know for certain.
Even when using the more sophisticated smartphone-based options, a home sperm test should be seen as a complement to the more thorough testing provided by a fertility specialist. Home tests are fast, inexpensive, easy-to-use, and offer great potential, but they are not a substitute for professional assessment.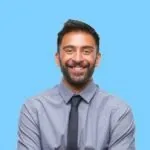 Jacob Rastani is the editor in chief of The Sperm Count Report, and is in charge of reviewing all editorial content for the website, social media, and video platforms. He has over 12 years experience as a senior editor national news websites, where he oversaw production of content relating to health and fitness, medical news, medicine, and fertility and reproductive health.