Last Updated on September 3, 2023 by SCRAdmin
BeliMen Vitality Review
---
When you and your significant other decide to start your family, it can be a fun and exciting journey. Beginning this new chapter in life can prove rewarding, but your enthusiasm can quickly turn to frustration if your plans for smooth sailing have choppy waters.
While hormone imbalances and polycystic ovary syndrome can cause infertility in women, the most common cause for infertility in men is limited or weak sperm.
If this is you, don't worry. Between 40% and 50% of all men experience this, ultimately preventing them and their spouses from conceiving.
Usually, low sperm count can originate from an unhealthy diet, lack of proper vitamins and nutrients, fitness, and numerous other factors. The good news is male enhancement supplements like BeliMen can improve sperm strength, mobility, and quantity.
What Is BeliMen?
---
BeliMen (BeliBaby.com) is a premium male fertility supplement and prenatal vitamin for men. It is often referred to by different names, even by the manufacturer, including Beli Men, Beli Vitality For Men, Beli Male Fertility, and BeliMen Vitality.
Of all the male fertility supplements on the market for men, Beli Vitality for Men is a top seller that doesn't stop at producing healthy sperm counts. Joni Hanson Davis, founder and CEO of the Beli Vitality company, believed in creating a product that would serve as prenatal vitamins for your overall health.
These vitamins play a role in balancing alkaline and acids in the body, which keeps the sperm alive and maintains the respiratory and metabolic systems. BeliMen supplements also enhance cellular health, allowing the body to create more tissues, improve bodily functions, and heal itself.
Even after your significant other's conception, you can continue to take them as your daily zinc, vitamin D, and vitamin E supplements.
What Does Beli Vitality For Men Do for Your Sperm?
---
The primary purpose of BeliMen is to boost fertility for successful conception. For one, that entails increasing sperm count. Typically, men produce 1,500 sperm per second, resulting in millions per day.
However, little to no sperm count is due to conditions like Azoospermia which can lead to consistent negative pregnancy tests. Less sperm means less of a chance of one swimmer penetrating an egg.
Beli for Men increases sperm count and enhances the sperm's quality to make them stronger and healthier, so they can carry proper genetic makeup and easily penetrate an egg. Without these qualities, delayed pregnancies and miscarriages are possible.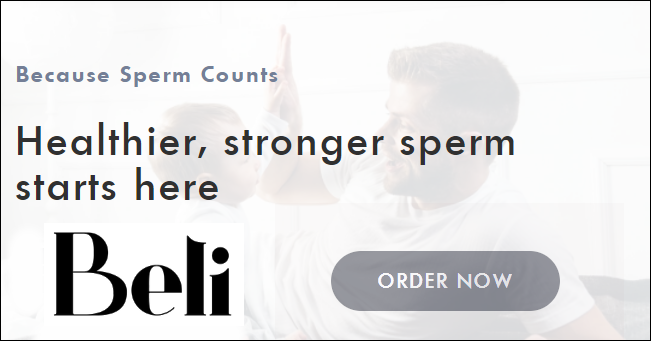 What Is in Beli Men Vitality?
---
Our overall health relies on multiple vitamins and minerals. Deficiencies can lead to brittle hair and nails, scaly skin, weakness, and vision or memory impairment. Inadequate nutrients can also take a toll on sperm strength and ability.
Beli Vitality, which also serves as a multivitamin supplement, includes:
Vitamin B6
Vitamin C
Vitamin D
Vitamin E
Zinc
Folate
L-Arginine
CoQ10
N-acetyl-L-Cysteine
Selenium
L-Carnitine
Shilajit extract
The vitamin portion contributes heavily to sperm quality, which determines the quantity of DNA sent to the egg, making up half of your future baby's genetics. It also has a hand in increasing sperm count, swimming ability, and egg penetration.
However, the minerals shine throughout the process of sperm growth, vitality, men's fertility, and stamina.
For instance, although the average male produces millions of sperm each day, it takes up to three months for them to strengthen and mature. Without the right nutrients, they can remain weak, preventing conception.
What Makes BeliMen Different?
---
Among the nutrients found in BeliMen, Shilajit extract takes the cake as a power booster. Shilajit, in the form of mushrooms from the Himalayas or mineral deposits derived from mountainous parts of India, has single-handedly improved the longevity and strength of individuals for centuries.
Although commonly used in ayurvedic medicine, Beli Vitality for Men is breaking the boundaries by being the first to incorporate this safe and naturally derived substance into their supplements.
Between clinical studies proving Shilajit's competence when assisting with sperm abilities and high concentration of biologically active nutrients, this vitamin stands up to its name, which translates to "conqueror of mountains and destroyer of weaknesses."
BeliMen also offers organic ingredients for better reproductive and overall health without any harmful ingredients found in other supplements. This includes GMOs, which can potentially lead to allergies or cancer over time.
It also follows FDA guidelines and adheres to many dietary limitations by being:
Gluten-free
Soy-free
Dairy-free
Vegan
When Should You Begin Taking BeliMen?
---
Beli usually recommends that future dads begin taking BeliMen for up to three to six months before trying to get pregnant. Although the supplement may not do much for already existing adult sperm, BeliMen will guide the new swimmers, so they can healthily reach their adult peak within three months.
However, even if you haven't prepped with BeliMen up to six months in advance, starting BeliMen as soon as possible ensures quick and great results.
How Do You Use Beli Male Fertility Supplement?
---
When you choose any Beli product, you'll receive between 60 and 90 capsules in each bottle depending on your supplement type. A monthly subscription to BeliMen will require you to take two pills a day.
While many dislike subscribing to monthly supplements and prescriptions, BeliMen provides their product this way to avoid the negative impact of inconsistency with individual sales. Taking your supplements on and off can lead to ineffectiveness or can drastically reduce your chances of conceiving.
However, you can cancel your subscription at any time without fees or a long unsubscribing process.
Is Beli Vitality for All Men?
---
Due to Beli Vitality's natural makeup, many couples trying to conceive turn to BeliMen and BeliWomen for a potency kick and vitamin supplement two-in-one. However, while you don't need a prescription to purchase BeliMen for a low sperm count or poor sperm motility, it's best to check with your doctor before taking anything that can affect your diet or lifestyle.
Even natural ingredients can cause an allergic reaction or negatively alter your body. Furthermore, BeliMen may react harshly to other supplements or medication.
Consult with your trusted physician before use.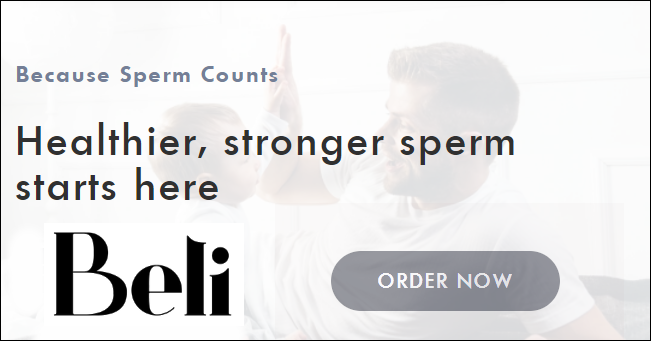 Are There Side Effects to Using BeliMen?
---
To date, there have been no side effects recorded for either men or women when using Beli Vitality. Research across all platforms shows resoundingly positive reviews of the product and the company.
However, as mentioned before, getting the go-ahead from a doctor is ideal for the best BeliMen experience.
You can also decide to cancel your subscription to Beli Vitality at any time, whether it's because your significant other has already conceived, you no longer require the product, or if BeliMen is just not right for you.
You will not experience any side effects from abruptly stopping treatment. Other supplements could lead to fatigue, weakness, and depression.
Is BeliMen FDA Approved?
---
Unlike some other supplements, Beli is a certified GMP (Good Manufacturing Practice) that produces BeliMen in an FDA-registered facility. BeliMen production follows the Good Manufacturing Process Guidelines from the FDA.
Pros and Cons
---
| | |
| --- | --- |
| Pros | Cons |
| Made with organic, research-backed ingredients. | May require 2-6 months to receive full benefits from the supplement. |
| Formulated using ingredients that are bio-available and easily absorbed by your body. | Shipping outside of the US is not currently available. |
| Non-GMO, gluten-free and vegan-friendly. | Not available at retail stores. |
| Manufactured in the USA at an FDA-registered facility. | Limited number of independent reviews. |
| Good Manufacturing Process Guidelines (cGMP) are followed during production. | |
| Convenient recurring shipments with free shipping. | |
| All products come with a full-refund guarantee. | |
Where to Buy BeliMen
---
Beli For Men is not currently available in retail stores, such as Amazon, Walmart or GNC. Upon deciding to try this supplement, you can go to the Beli website and add Beli Vitality for Men to your cart.
Your purchases will instantly renew each month, so you never forget to make a purchase in between your hectic daily schedules. You will receive free shipping with each delivery and can cancel your subscription at any time without cancellation fees.
Beli will even let you try the product free for one month. If it doesn't work for you, or you choose to go another way, the first bottle is on them.
Conclusion
---
Beli Vitality creates enhancing fertility treatments with up-to-date science and research, which allows us to recommend their products with the utmost confidence. Beli is a go-to for many couples looking for a natural way to promote or support pregnancy and health.
If you or someone you know is in the market for BeliMen or BeliWomen, visit Belibaby.com where you can find current pricing and additional information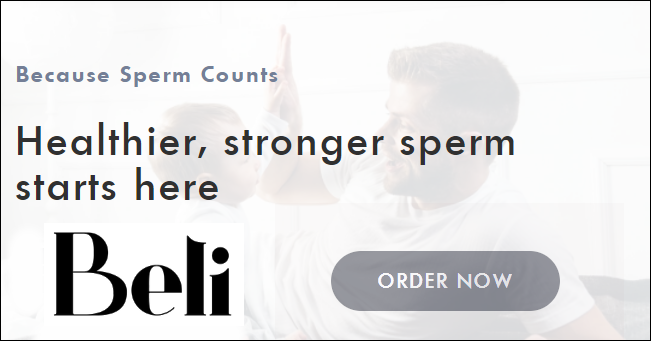 Naresh Raja is an Executive Editor at The Sperm Count Report. He has more than ten years of experience writing and editing articles about health and fitness, nutrition, fatherhood, and reproductive health.